The student ID can be obtained while you wait and for free (without ISIC licence) here.
The card is an AMU student's legal ID.
It can be used as a library card in AMU libraries.
If charged, it allows printing, copying and scanning in AMU buildings.
The ISIC licence grants you discount on fares, food, culture, sports activities etc. Up-to-date information on discounts is available here.
The cards are also used to allow you entry to some AMU venues, and to enter dormitory rooms at Hradební, as well as buy cheap food at several dining halls.
You can get your card at the  UK Prague Centre, Celetná 13, ground floor of the Faculty of Teaching. (map) You will need your photo ID or passport. Your photo will be taken right there. The UK Centre accepts card payments or cash if you wish to have an ISIC licence on your student ID.  
The basic validity period of the ID is September 1 of a year to the end of December of the following year – i.e. 16 months at the most. All cards issued in the course of the cycle have the same date of expiry, regardless of the date of issue.
From September 1, 2016, the use of student ID's is governed by  Rector's Decree no. 7/2016 on the use of ID's at the Academy of Arts in Prague.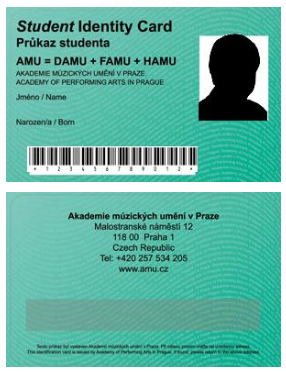 AMU student ID
free of charge, no ISIC licence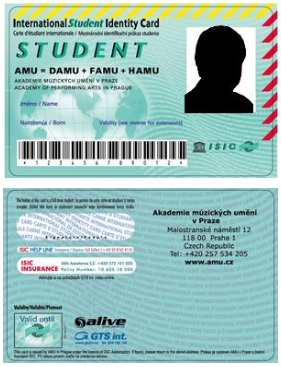 AMU student ID
CZK 230.00, with ISIC licence